Happy New Year!
I probably saw over 100 posts about how horrific 2016 was. While every year has its ups and downs I think the best way to move on is to see how we can overcome the downs. For me personally, 2016 was a year of growth. I figured out what I wanted to do in life and decided I was okay with becoming an adult. I realized who my friends for life would be and what makes them perfect. I realized the importance of being honest with others and myself in order to keep myself sane. I started to overcome my fears and look into what a beautiful and bright future I could have. Which brings me to today in 2017. Like most I have picked up a new year's resolution of wanting to live healthier. I want to write more. I also want to live and love more.  As we saw with 2016 there are many negatives in our world and in order to still live positively we need to look within ourselves to see what we can do to make that happen.
To 2017 a year of positivity, more growth, more love, and more happiness.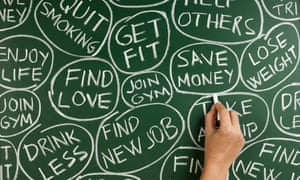 A different prescriptive on new year's resolutions via The Guardian.